Back to all news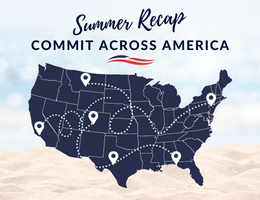 Aug 15, 2022
A COMMIT Summer: Spanning the Nation
---
This summer, COMMIT explored new opportunities to reach veterans across the country, making new friends and growing our network of advocates and allies at every turn.
In June, the Marcus Institute for Brain Health hosted COMMIT's Transition Mentoring Workshop at the University of Colorado Anschutz Medical Campus. With twelve all-star experts from COMMIT's alumni and advocate network, our service recipients listened to the incredible insights and sage wisdom they had to share while growing their own confidence through the transformative workshop. The sacred space created during a COMMIT workshop bolsters service recipients in a way that is hard to describe but also impossible to deny. We were so grateful to our mentors and hosts for joining us on this journey.
Later in June, COMMIT offered two seminars to active duty special operators. The first, at Fort Belvoir, VA, had 41 participants and the other at Eglin Air Force Base, FL, had 54 participants. Connecting with this audience is always special to COMMIT because our very first service recipients came from the special operations community. COMMIT's Michele Olive delivered presentations to these audiences and connected with service members on their hopes and aspirations for post-service success.
Meanwhile, in Bozeman, MT, the weather took a turn for the beautiful while COMMIT's partnership with Warriors and Quiet Waters grew during the Hunt for Purpose program. The elk hunting expedition is designed to help veterans mindfully reflect and introspect, find clarity, and discover their goals and calling all while practicing the discipline and inherent mindfulness needed to properly carry out a hunt.
In the Northeast, COMMIT attended the unveiling of Freedom Alliance's logo on a NASCAR manned by racer Santino Ferrucci at Pocono Raceway in Long Pond, PA. Connecting with the veterans and gold star family members through the Freedom Alliance network was both touching and inspiring.
Just East of the NASCAR event, COMMIT's Corporate Programs partnered with Guggenheim Partners in the financial district of New York, NY, to deliver a three-part series of presentations aimed at bolstering the confidence, imagination, and information of their veteran interns. With lively discussion, candid insights, and guided exercises, the veteran interns were able to leverage COMMIT's ethos as part of their internship experience.
Finally, on the virtual front, COMMIT delivered two presentations as part of our webinar series: Values Based Decisions for Spouses and Michael Refuerzo's Linkedin Networking. Amy Taft hosted an expert panel of three military spouses from very different paths who discussed what it meant to make values-based decisions through the challenges and victories in post-service life. COMMIT's Mike Greenwood and Meagan Thrift hosted a discussion on personal branding on LinkedIn and then brought in the expert insight of Michael Refuerzo to provide insight and tactics on successfully leveraging LinkedIn. Both webinars were highly rated by participants and have since been posted on COMMIT's Veteran Voices podcast.
Summer of 2022 will stand as one for the record books in terms of COMMIT's impact and reach and we owe it to our hardworking staff, beyond-deserving service recipients, and generously vested donors.